________________________________________________________________________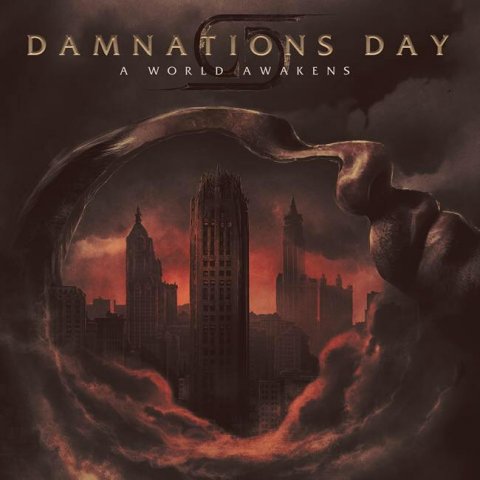 Damnations Day - A World Awakens
Review by Peter Letting: 29-03-2017
Australian melodic heavy metal band Damnations Day (DD), released a new album 24 march 2017. The title of the album is A World Awakens.

I had the pleasure of reviewing their first album "Invisible, The Dead", back in 2013 and I was blown away. It has been one of my favorite albums ever since. I also had the chance to see DD live, when they visited Denmark as a special guest with Accept. What a show, what a memory. I sincerely hope I get another chance at a live performance from Damnations Day.

But now back to the newest release from Down Under. The album opens with "The Witness", which has already got a music video, that has been shown on social media for a while now. I'm really excited of the sound and the diversity in the tune, and it just continues throughout the entire album. The more I hear it, the more I like it.

DD has implemented that perfect balance of soft and hard, progressive and "easy listening". I find the progressive metal style very interesting but sometimes it just varies TOO much, and the connections in my brain kind of brakes, and just gets overloaded. But when the tunes are also very well written, and perfectly adjusted with a chorus that is memorable, and a melody so well played on the guitar, that it doesn't drown in shredding, then everything adds up and you're just happy.

Damnations Day are: Mark Kennedy - vocals and guitar, Dean Kennedy – Drums and Jon King – guitar

I like both the strong fast tracks and the more soft parts, but my heart still beats a bit more for the bits where the speed and the heat is up, and the energy is let loose. I guess that's why my favorite track is "The Idol Counterfeit".

But all in all, I just really enjoy all of it. The tight and hard hitting drums, with all of the variation and change in beat, the fine and very beautiful guitar play, and not the least the fantastic vocal of Mark. He always amazes me, especially when he goes to the high notes, I'm sold… This all combined with a world class production and sublime song writing. What's not to like….

Well done guys. I really hope that the world sees your potential, and gives you the success that you deserve..It's a 6 out of 6 from me
A World Awakens was released on March 24th on Sensory Records.






(6
ud af 6)
Visit Damnations Day on Facebook here.
_____________________________________________________________________________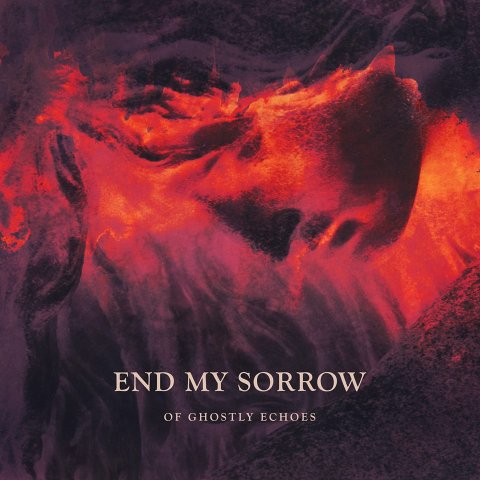 End My Sorrow - Of Ghostly Echoes
Review by Lars Frosz Nielsen: 24-11-2016
End My Sorrow from Grenaa (Denmark) has made a very nice debut cd; Of Ghostly Echoes where they're played METAL in different genres, but who cares as long as it sounds great and gives one the desire to play air guitar, air drums and head banging, and it sure does give you that desire.

There are many rhythm shifts arranged nicely. I have become more and more in love with this album as I've listened to it over and over again. I think that the starting number "Wither Away" gives one a good taste of the rest of the album, melodic goth death .... ish.

The production itself is nice and clear with a very fine ballance between the various instruments and vocals. There are both up-tempo and down-tempo numbers and a ballad - a VERY cozy and beautifully number - and you're not bored at any time listening to the album.

Next time End My Sorrow makes a CD, I want some more numbers of Christians growl ... not because I don't want to hear Anne-Mette's song, for it is very nice, and fits well into the mixed METAL-style the band has, but because I do not think that 11 numbers are enough :)

Christian H. B. Jensen plays guitar and growls, Snade plays guitar, Jens Kruse Andersen plays bass, Jesper Skousen on drums and Anne-Mette Nielsen sings.

There is a very fine balance between all the members playing/singing. I would really like to highlight Jesper on the drums, who is working overtime, but again .... no one is below the other on this, almost masterpiece of an album. If you enjoy METAL you should purchase this album in my opinion.
Of Ghostly Echoes will be released on November 25th on Art Gates Records.






(6
ud af 6)
Visit End My Sorrow on Facebook here.
_______________________________________________________________________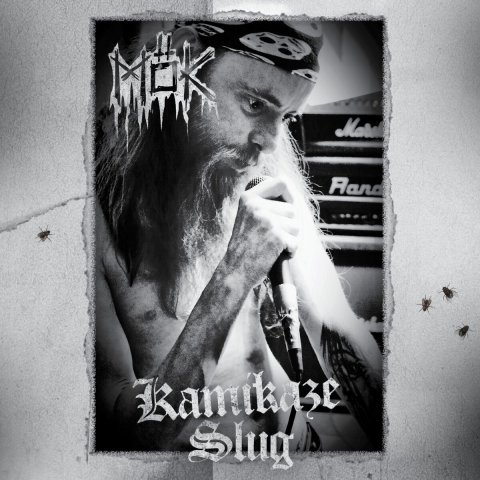 Mök – Kamikaze Slug (EP)
Review by José Eduardo Amorim Pascoa Santana: 30-10-2016



Mök's latest Kamikaze Slug EP is a short but powerful ride through a raw black metal and hardcore punk sound. However, like with many metal genres, you will either enjoy this 4 song EP from beginning to end or give it a pass entirely.

Liking it or not, there is one thing Kamikaze Slug has that can't be denied: energy. The three new tracks, plus the reissued "Necroerotic Asphyxiation", have a rough punk sound and DIY mixing that are hard to find, but that also lack diversity. In a 17 minute long EP, having difficulty distinguishing one song from another is an unfortunate problem to have.

Nevertheless, Mök's Kamikaze Slug EP's strength is in its unfound sound and rawness through and through. Take my word and give it a listen to find out if it's for you or not.
Kamikaze Slug EP was released on October 7th.



(3
ud af 6)