The beginning: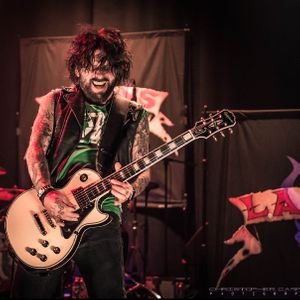 Calle: Why did you choose the name Guns instead of Ulrich?
Tracii: Mr Guns was a nickname given to me by a girl I knew when I was 17
Calle: What got you into music?
Tracii: I heard Led Zeppelin's "Whole Lotta Love" when I was 5 and that was the beginning of music for me .
Calle: Who are your biggest influences?
Tracii: Jimmy Page,
Jimi Hendrix,
Randy Rhoads and
Eddie Van Halen
Calle: In the early years you were in a band with the Danish bassist Ole Beich. How did you guys meet?
Tracii: We met through an ad he had placed in a local paper called The Recycler .
Calle: Both you and Ole were in the first line-up of Guns 'n' Roses, but only for a short period. The story goes that you and Axl Rose didn't get along very well, so you decided to leave the band. Is this the true story and did you ever regret your decision to leave?
Tracii: Yes Ole was in both hands. I havent ever regretted leaving Guns n Roses . I'm very proud of my involvement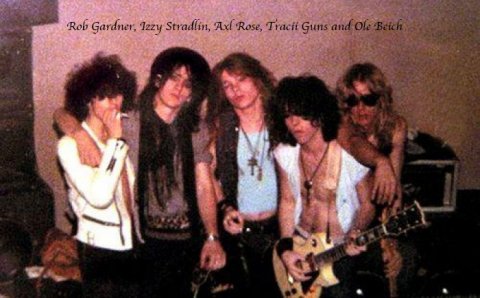 Early version of Guns 'n' Roses with Tracii and Ole in the line-up

Calle: After leaving Guns 'n' Roses you reformed L.A. Guns. After a few line-up changes in the first couple of years, you released the first album in 1988. The album was well received. How was the whole experience for you?

Tracii: It was at 19 years old exactly the way I thought it should be. It was very exciting recording in a real studio and working with different engineers and producers. The biggest struggle was getting them to not change our very raw sound. It was always a compromise back then .

Calle: Only a year and a half later L.A. Guns released their second album "Cocked & Loaded" which peaked higher on the billboard chart. Do you think it was because of more video airplay on mtv and maybe even the single "The Ballad Of Jayne"?

Tracii: I was against putting "The Ballad Of Jayne" on the record for a number of reasons mainly I was self conscious about your fans thinking it was a sellout. At this point I'm thinking it was the right decision because not obviously propelled the band to more recognition and bucks.

Calle: Speaking of "The Ballad Of Jayne" I noticed some differences on my vinyl and Cd version of the third album "Hollywood Vampires". On the CD version track 11 is the song "I Found You", but on the vinyl version the song has been changed to "The Ballad Of Jayne". What was the reason for this?

Tracii: More bucks for the European label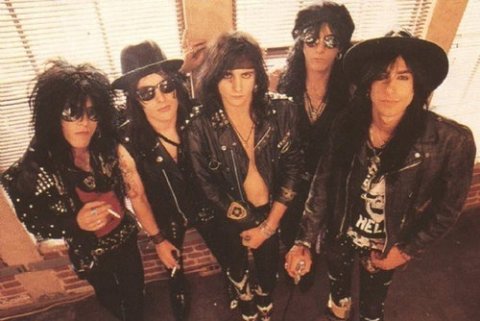 L.A. Guns - Cocked And Loaded 1989
Calle: Over the years there has been a lot of line-up changes in L.A. Guns. What was the reason for all these changes?
Tracii: It's just the way things went .
Calle: Since you left the band in 2002 there's been two bands touring as L.A. Guns. Your version and Phil Lewis' version. There was also a dispute about using the L.A. Guns name. How do you see this whole experience?
Tracii: It's boring
Calle: In 2016 you and Phil Lewis teamed up again after 14 years apart. Why did it take so long for this to happen?
Tracii: We needed a break well, I needed a break :)
Calle: Since the reunion with Phil you have released two more albums. Are there any plans on recording new songs with this version of L.A. Guns?
Tracii: You mean another album? Yes and it's almost complete.
Calle: There are still two versions of L.A. Guns touring. The Tracii Guns/Phil Lewis version and the Steve Riley/Kelly Nickels version. Don't you think this is confusing for the fans?
Tracii: It's embarrassing
Calle: What has been your best experiences and memories in L.A. Guns?
Tracii: The day I met Phil Lewis I knew we had something special in our sound and that's the excitement nowmthat keeps us going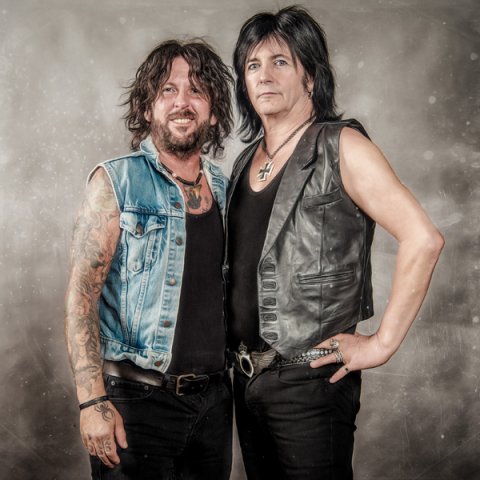 Tracii Guns and Phil Lewis
Side projects:
Calle: In 1991 you were in a "supergroup" with Richard Black (Shark Island), Michael Schenker (Scorpions), Share Pedersen (Vixen) and Bobby Blotzer (Ratt). You released one album which didn't get the best reviews (I personally liked it). Was that the reason you spilt up after a short period?
Tracii: No, the record sold relatively well. It was over the first night of the tour we did with LA Guns and Ratt. Lead singer problems
Calle: Between 2002-2015 you have also released albums with Brides Of Destruction and Devil City Angels. Both bands can also be considered as "supergroups" with band members including Nikki Sixx (in Brides Of Destruction) and Rikki Rocket and Brandon Gibbs (in Devil City Angels). How did these two bands get together?
Tracii: I called Nikki and said hey I want to do a band called Devil and he liked the idea so we started a new band. My favorite part was playing Mötley Crüe songs at Download Festival.
Rikki and I played a Who tribute show together and Jeff Scott Soto,said we should start a band called Guns n Rockets so we decided to start a new band . It was really fun .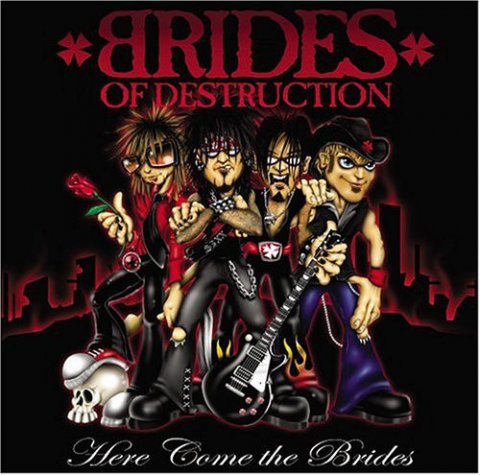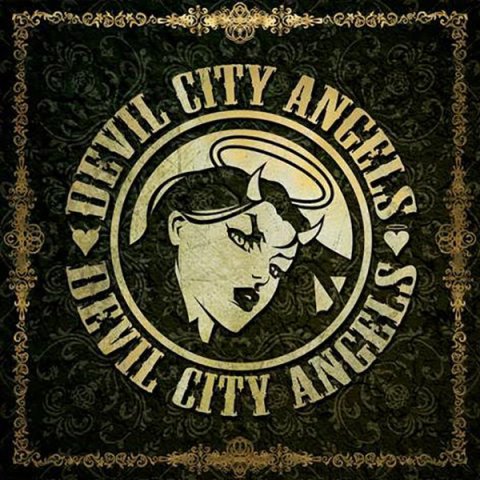 Calle: Are there any other musicians you would like to work with?

Tracii: Joanna Conner

Denmark:

Calle: You recently moved to Denmark (in Aarhus) with your wife Siri. So, I will ask you some questions about your relationship and Denmark in general. First, how did you and Siri meet?
Tracii: Siri and I met on Instagram she was supporting me in a very heated debate about something that's important to the both of us and we quickly realized we would make a great team in real life and so far we have been correct .

Calle: You got married in December 2018 and you're expecting your first child soon. Do you know the gender of the baby and have you talked about giving the child a traditional Danish name or a more American/international name?

Tracii: The baby boy has now arrived and hismname is Ole Luk Guns and he his named after Ole Beich and Siris onkel Ole Luk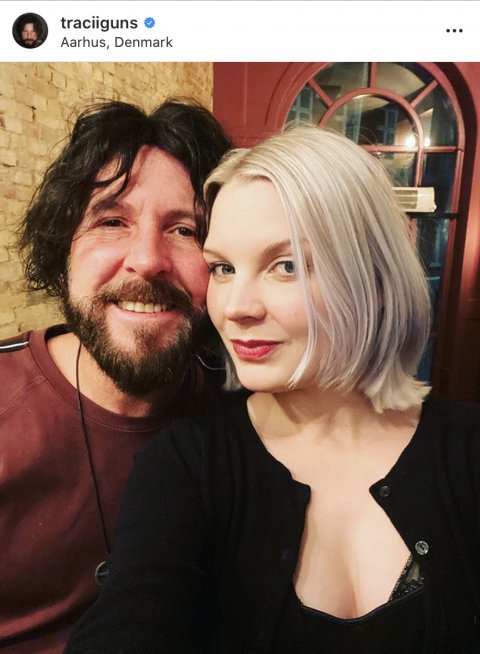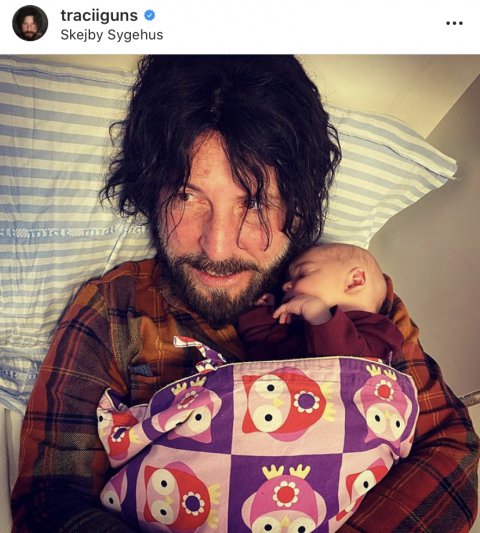 Tracii and Siri Tracii and Ole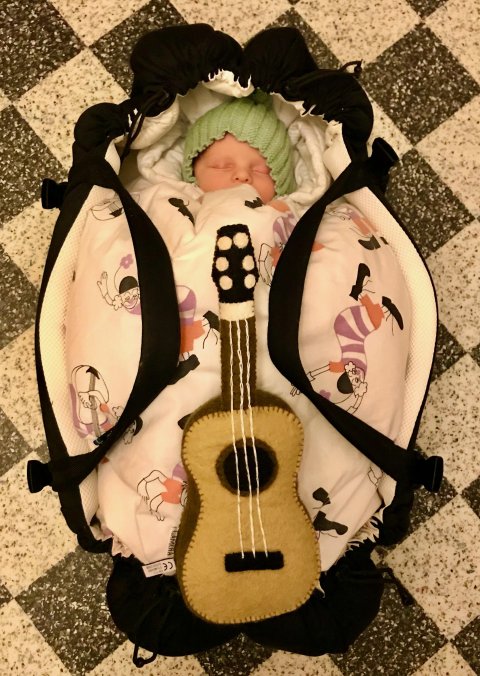 Ole Luk Guns
Calle: How much did you know about Denmark before moving here?
Tracii: I had played here a few times and loved the cold rainy weather and I also knew Link Wray lived in Copenhagen.
Calle: What was the first Danish words you learnt?
Tracii: Skildpadde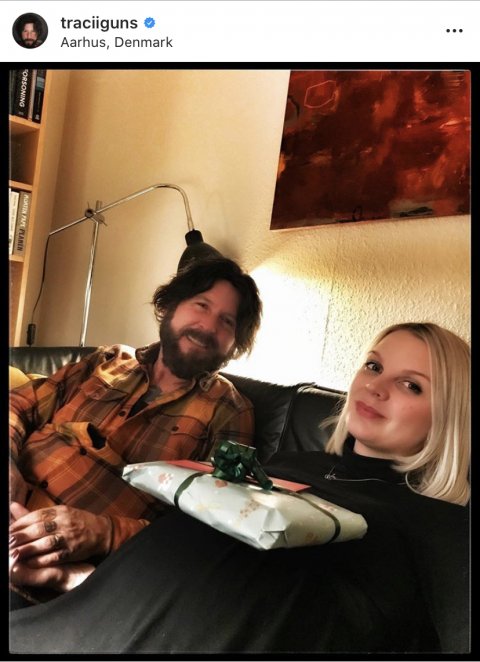 Calle: What do you think of the Danish concept of "hygge"?
Tracii: I think it's the glue that holds family values and communities together . My wife introduced me to the concept very early in our relationship and it's not a concept easily defined by words but, when you live herewith comes apparent and obvious . It's the best way of life for me . Calm and with family.
Tracii and Siri "hygger" at home ----->
Calle: What's your favorite Danish food?

Tracii: Tarteletter for main course and for a snack a traditional ristet hotdog og Cocio and brunsviger for dessert.

Calle: What do you see as the biggest differences between US and Denmark?

Tracii: Hahahahahaha hahahahaha . Well that's for another time :)

Calle: When you have friends visiting from the US, what is the one thing they have to see in Denmark before leaving? And what food/drink should they taste while here?

Tracii: Since I am in Aarhus I would take them to Den Gamle By , The Art Museum, The Deer Park and the never ending bridge which has ended for now haha

Calle: Since moving here have you "discovered" any Danish bands you can recommend people to check out?

Tracii: I am working with some excellent Danish musicians at the moment however, I haven't yet had time to explore the local bands yet :(

Calle: Back in December I saw a picture on your Instagram where you were posing with some Danish musicians and the caption said "The Bad Daddies" (Editorial comment: the band later found out that there was another band called The Bad Daddies, so they are looking for a new name). Is this a serious band and do you have any plans on recording some music with these guys?

Tracii: Yes !!! We are writing and recording at the moment . I also have a friend Freddy Danger that we plan on doing an acoustic / electric duo with and that will be fun . I love hanging out at Akustikken , Orkester Graven and Woodstock guitar shops and I will meet with local guitar builder tonight Baum Guitars to try out some Guitars . Also been experimenting with Emma electronic guitar pedals which are built locally in Aarhus and they are Super !!!

Calle: Will this new Danish band do any concerts?

Tracii: We will !!!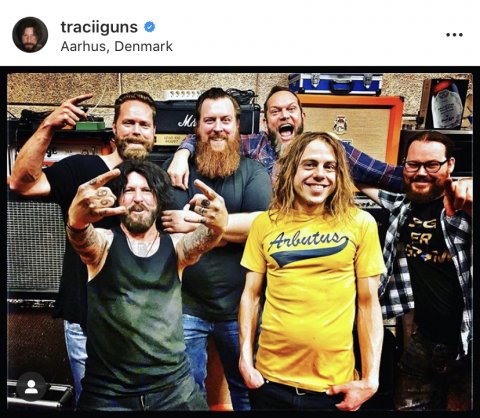 New Danish band

Front row: Tracii (L.A. Guns), Mads (Pudsige Herrer), Jacob (Guns 'n' Roses Jam)

Back row: Mikkel (Kings In Exile), Dennis (Farlige Typer I Modlys), Jacob (Pudsige Herrer)

Calle: In May L.A. Guns will play two shows in Denmark (in Rødovre and Aarhus). This will be the first time with both you and Phil in the band since 1993. Who else is in the band and what can people expect from the show? Will you be playing a lot of old songs or mainly songs from the last two albums?

Tracii: The band lineup is Phil and I with Johnny Martin on bass , Ace Von Johnson on guitar and Scot Coogan Who was also in Brides Of Destruction . We play a mix of all the album's .

Five quick question:

Calle: Favorite band of all time?

Tracii: Led Zeppelin

Calle: Favorite movie?

Tracii: In Bruges

Calle: Favorite drink?

Tracii: Mexican Coke or sharing a single Gin and Tonic with my wife because we suck at drinking

Calle: Nickname (if any)?

Tracii: Donkey

Calle: Favorite motto?

Tracii: Party !!!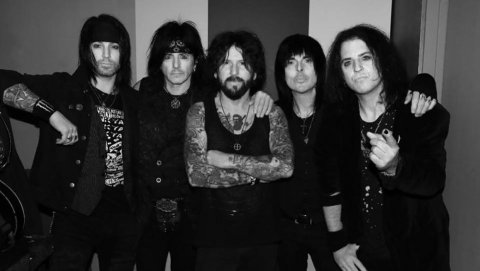 L.A. Guns 2020 line-up
Click on the logo to listen on Spotify
Click on the logo to visit L.A. Guns Facebook
The End